HOURS: 10:00 AM – 9:00 PM
Served from 10:00 AM – 3:00 PM
Classic loco moco w/ house-made patties; smothered in demi-glace* mini (2eggs, 1 patty) / regular (3eggs, 2 patties)
w/ melted mozzarella cheese on a toasted taro bun 2pc*
Slow roasted over-night, English-cut served w/ 3 eggs*
Served w/ Bo's special hollandaise sauce on sweet Hawaiian taro English muffins*
Lobster & Mushroom Eggs Benedict
Draped w/ thick-cut bacon*
Mediterranean Eggs Benedict
Assortment of nuts, avocado, garlic & hummus*
Hawaiian-Style Eggs Benedict
w/ Kalua pig, thick-cut bacon & cabbage*
Made w/ local sweet bread 4pc*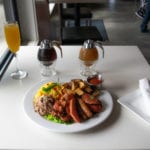 3 eggs any style w/ 2 choices of the following meats*: Portuguese sausage, regular bacon, link sausage, Kalua pig or Spam (sub thick-cut bacon for $4)
3 eggs any style w/ all 5 of the following meats*: Portuguese sausage, regular bacon, link sausage, Kalua pig or Spam (sub thick-cut bacon for any meat for $4)
3 eggs, served w/ house-made fresh salsa*
Feta, mozzarella, goat & parmesan atop mixed greens*
Prime rib, thick-cut bacon, Portuguese sausage & Kalua pig*
Mushroom & Spinach Omelet
Oyster & button mushrooms, spinach & cheeses*
Spinach, mushrooms, onions, bell peppers & tomatoes*
Tropical seasonal fresh fruits bought local, when available*
Bo's famous taro beignets w/ Frangelico American Honey sauce 4pc (sorry no ice cream included)
Portuguese or link sausage 5 pc, Spam 5pc, regular bacon 6 pc, house made Kalua pig
Thick-Cut Apple Wood Bacon
1 pc plain / apple banana*
Sandwich, Burgers & Wraps
Served w/ thick-cut steak French fries or side salad
(excluding PB & Yay) add avocado or cheese $2
Sweet & unique; warm peanut butter & jelly drizzled w/ chocolate sauce*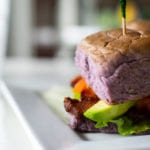 Thick-cut apple wood bacon, lettuce, tomato & avocado; all the favorites atop a sweet taro bun 2pc
Pulled pork in pineapple BBQ sauce on toasted sweet taro buns 2 pc*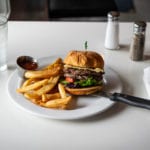 2 juicy house-made patties lathered in our house sauce on a toasted sweet Hawaiian bun*
Spinach wrap, garlic & basil roasted house-made chick pea hummus w/ mixed veggies & cheese*
Broiled Fresh Fish Sandwich
Dressed in Bo's caper cilantro sauce on toasted sweet bun*
Mekong-Dip Chicken Sandwich
On a French baguette w/ coconut Thai curry 'au jus*
Sauteed w/ mixed veggies in a spicy ginger garlic sauce*
"Laos In The House" Crispy Chicken Wrap
Marinated overnight in Lao spices w/ a soft flour tortilla "house"*
Sauteed w/ mixed veggies in a spicy ginger garlic sauce*
Crispy w/ sweet chili or steamed 4pc*
Uncle Bo's Oyster Shooters
Toasted garlic, cilantro, sesame-ponzu cocktail sauce 4pc*
Wok-fried w/ Thai herbs & veggies (also available w/ steak for $2 more)*
crispy, served w/ a sweet chili sauce*
Uncle Bo's Dynamite Shrimp
tossed in garlic chili aioli w/ parmesan panko crust
Korean-style spicy chicken 8pc*
Broiled w/ melted mozzarella 6pc*
Shrimp, scallops & veggies tossed w/ herbs marinated in lime juice*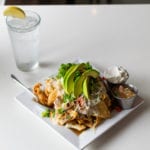 w/ ham, kalua pig, onions, mushrooms & mozzarella on wonton chips (also served veggie-style w/ veggies & avocado)* smaller portion available for $13.75
House-made w/ chickpeas, roasted garlic & basil served w/ crispy tortilla chips*
Uncle Bo's Kalua Pig Fried Rice
Medley of fish, calamari, clams & shrimp in mild chili & garlic oyster sauce*
Spicy yellowtail, Japanese cucumber boat w/ avocado paddles & Korean nori sail*
Premium cuts of ahi sashimi flash-seared & drizzled w/ honey glaze*
Cheesy, creamy mashed potato spring rolls w/ bacon & chives*
Soups are house-made fresh daily.
Add avocado to any salad /or just $2
Soup Du Jour or New England Clam Chowder
House Spring Mixed Greens
(side salad) locally grown & organic w/ balsamic vinaigrette
(add chicken breast for just $3)
w/ green apples, walnuts & goat cheese on local organic greens
Olives, onions, mushrooms, tomatoes, cucumbers & feta w/ lemon-herb dressing over romaine lettuce
Creamy sesame dressing, chicken breast, wonton strips, cucumber & mandarin orange slices*
Grilled flank steak, chopped cucumber & tomatoes over local organic mixed greens w/ a Thai chili vinaigrette*
Warm crispy crab cake atop local organic mixed greens, ham, egg, cucumber, cilantro & tomato all tossed in Mama Bo's dressing
Uncle Bo's Warm Spinach Salad
Strawberry vinaigrette, walnuts, bacon, feta & onions
Fresh dough hand-made in-house daily.
Pizzas approximately 12 - inches
Kalua pig, ham, pineapple, onion & mushrooms*
Exactly what it sounds like; our delicious Boca-Rota pupu made into a pizza!*
Pepperoni, Italian sausage, bacon, kalua pig*
Onion, mushroom, bell pepper, zucchini, yellow squash & tomato*
Rich, decadent… DYNAMITE!*
Choose any 4…  pepperoni, Italian sausage, ham, kalua pig, bacon, onion, mushroom, bell pepper, tomato, yellow squash, pineapple & zucchini*
Gluten free pasta available for just $2 more
Served w/ linguine (add BIG meatballs; 2 for $3)*
Sautéed veggies w/ fresh basil tossed in a light, garlic citrus olive oil over linguine*
Sautéed chicken in garlic, pesto cream sauce over fettuccine*
Sautéed chicken, mushrooms, parmesan & creamy sauce over fettuccine*
Clams, scallops, shrimp & fish jumbled in a creamy tomato net of linguine*
White wine, lemon butter, capers, mushrooms & fresh basil over linguine*
Linguine tossed in light citrus olive oil w/ fresh garlic, tomatoes & basil*
served w/ mixed veggies & choice of: garlic mashed potatoes,
white rice or thick-cut steak French fries (substitute starch
for extra veggies or brown rice just $2 more)
Never Ever Garlic Rib-Eye
Organic grass-fed, no antibiotics, no hormones… EVER! Naturally flavorful, juicy, broiled & topped w/ garlic*
Pan-seared w/ cracked black pepper & red-wine reduction mushroom sauce*
Slow-roasted overnight served w/ au jus & creamy horseradish*
(combos available w/ purchase of a dinner entree)
Add Shrimp Scampi 4PC* $8.95
Add Lobster Tail* $18.95
Add King Crab Legs* $22.95
served w/ mixed veggies & choice of: garlic mashed potatoes,
white rice or thick-cut steak French fries (substitute starch
for extra veggies or brown rice just $2 more)
Uncle Bo's Fish Or Shimp Tacos
Lightly breaded w/fresh avocado, flour tortilla, 3-cheese dill sauce & served w/ thick-cut steak fries 2pc (stir-fried veggies not included)*
Fresh island fish baked in garlic aioli, topped w/ parmesan panko crust served w/ 2pc wok-fried garlic shrimp*
w/ one of the following preparations*
CHIANG MAI – breaded in macadamia nut panko w/ choy-sum & tomatoes in sweet chili*
STEAMED CHINESE STYLE – w/ garlic soy sauce topped w/ green onion, cilantro, olive oil*
PAN BROILED – w/ garlic citrus butter & white wine*
pan roast w/ lobster & crab meat, clams, Scallops & shrimp… Velvety, creamy, yummy, soup or stew? (recommended w/ rice, stir-fried veggies not included)*
Spiny-tailed lobster broiled w/ garlic citrus butter*
A Perfect Way To End Your Meal
House-made w/ vanilla ice cream & wrapped in sweet Hawaiian bread*
Creamy & soft from our neighborhood ice cream shop*
Warmed Fudge Brownie Ala Mode
House-made w/ vanilla ice cream & wrapped in sweet Hawaiian bread*
Locally made, gluten free… ask your server for today's flavors!
Baskets of warm taro beignets (6pc) scoop of vanilla ice cream w/ Frangelico American Honey sauce*
For children 9 years & younger, please.
Comes w/ complimentary milk, juice or soft drink
Grilled-Cheese Sandwich & Fries
Located In the town that surfing built
We're Located In The Historic Haleiwa Town Center
Make memories within the memories of the historic Haleiwa town – the town that surfing built. Haleiwa is a surf town that services the Oahu North Shore beachgoers. Today, Haleiwa still services the beachgoers along with a mixture of visitors and locals that want to enjoy the one-of-a-kind landmark beauty that the North Shore provides.
We are located on Kamehameha Hwy. Just look out for the Uncle Bo's sign in bright yellow text on your left-hand side if you're headed north on the Kam Highway.
PARKING: There is adequate shopping center parking in the town center. Just note that is may get busy during the lunch and dinner time, especially on the weekends.
HOURS: 10:00 AM – 9:00 PM